[[pc.memberPriceEntry.key.displayText]]: [[pc.memberPriceEntry.value/100 | currency]]
This choice does not exist
This choice is currently out of stock
Turn ordinary art into an expression of your personality with a few cleverly placed Vintage Marquee Lights displays.
24" tall, 4" deep
Link up to 3 signs with just one plug
Plug into a standard outlet
Great for weddings, restaurants, bars, special events, or as photo/set props
Vintage Marquee Lights work like other lamps. Just screw the bulb and sockets in, plug into an outlet, and enjoy. Unplug and re-arrange to form your favorite words, expressions, or monograms.
Antique rust finish
Indoor or outdoor use
Hang or stand up
Hanging bracket on back for easy wall installation
New UL Approved wiring, plugs, sockets, and C9 bulbs included
5 spare bulbs included (easily buy refills here)
How much does shipping and handling cost?
Standard shipping: $19.00 per light
2-day: $49.00 per light
1-day: $99.00
Bulbs ship free! ($5 for 2-day, $9 for 1-day)
Isn't that a little steep?
Have you seen these things? They are BIG, and moving big things ain't cheap.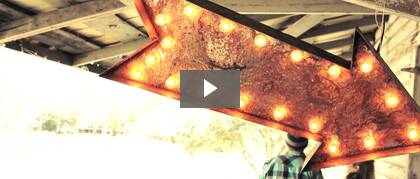 Other Products You Might Like